Enjoy Warm Bangladeshi Hospitality
Experience the local lifestyle with locals
A village homestay in Bangladesh is not only a trip, it is more of an opportunity to experience the local culture and traditional lifestyle. Imagine living in a traditional house in the countryside while enjoying a laid-back lifestyle and plenty of fresh air. Unlike an ordinary holiday, the homestay excursion whisks visitors off to an oasis of tranquillity and rustic charm.
More than eighty per cent of the population lives in rural villages. Even the city residents have a strong connection to their home village. Therefore, the Bangladeshi village homestay is unique and offers profound insight and a rare opportunity to explore the rural community's authentic charms in a traditional setting. Your accommodation will be in a traditional farming village with a local family. The family that participates in the homestay programme are carefully selected and comply with the strict guidelines set by our organization. Savour local hospitality and participate in delightful activities that have been lined up – harvesting or planting crops, fishing, swimming in the river, visiting local schools, boating/ cycling around the villages, visiting local bazaars and participating in traditional games.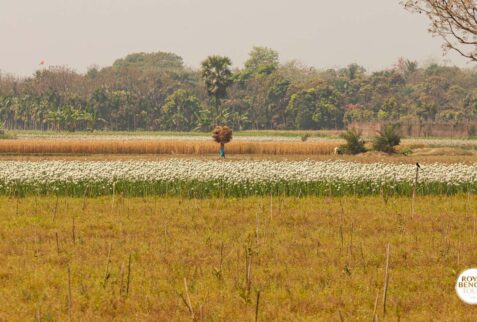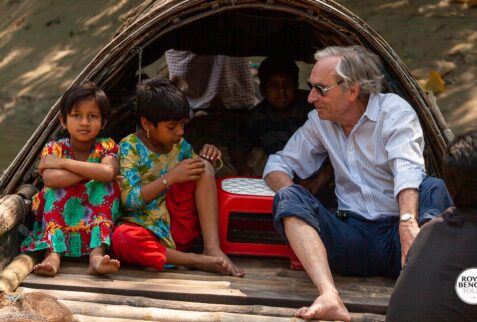 Village homestay can also be incorporated with any other trips to different regions of Bangladesh. Some homestays are tucked away in the hinterland, while others are in the neighbourhood of major towns and easily accessible. For instance, the Narsingdi, Narayangonj and Manikgonj homestay villages are more or less two to two and half hours driveway from the capital city of Dhaka.
Every homestay village presents a different and remarkable experience. Visitors to Narsingdi, Narayangonj can have delightful experiences of beautiful landscapes, diverse agriculture and farmers' life, famous textiles, weaving and dyeing, local crafts and savouring tropical fruits and fresh vegetable dishes besides fish and meat items. During a stay at Narsingdi or Narayangonj, visitors can make a day trip to the first capital of Bengal in Sonargaon and Panam Nagar, along with a boat trip on the Meghna River. And Manikgonj homestay trip can also be combined with visits to Baliati Zamindar's palace, Dhamrai brass artisans' village and the pottery village.
There are always many things to do or learn in the homestay village. The Villagers will eagerly invite you to join in their daily activities, and you will soon feel that the enthusiasm is infectious! Harvesting local crops, visiting fish farms or learning how to make traditional delicacies are only a splash of the many things that await your arrival. Brush up on your Bangla language with the children or indulge in traditional pastimes such as kite-flying and top spinning. Local cottage industries and weavings are other enjoyable pursuits of the area. Folk music is famous and spread all over Bangladesh; evening cultural music performances can be arranged to entertain the visitors.
A homestay program is suitable for all types of visitors, be it families, students or senior citizens. The simplicity of rural village life and the engaging pastimes that are found here will create a unique and memorable excursion. Experience genuine Bangladeshi warmth and let the homespun hospitality work its charm!
Our homestay arrangements are as diverse as the local culture. They can be found in Barishal, Patuakhali, Bagerhat, Morrelgonj, Mongla, Nijhoom Dwip, Rajshahi, Nawgaon, Bogra, Paharpur, Kurigram, Narsingdi, Narayangonj, Kishorgonj, Srimongal and Sylhet area, which you can easily incorporate with any other trip.
Culture and tradition
Enjoy a fascinating riot of colourful cultures and traditions in Bangli villages. Bangladesh's culture is among the world's oldest; its civilization began about 3000 years ago. The region also has a multifaceted folk heritage, provided by its ancient animist, Buddhist, Hindu and Muslim roots. Different types of architectural expressions transformed by the forces of history, cultural life and religious beliefs are unique to Bangladesh. Weaving, pottery and terracotta sculpture are some of the earliest forms of artistic expression. Jatra, or folk theatre, is common at the village level and usually takes place during harvest time or at melas - village fairs. This land has a rich tradition of music and dance. The music forms prevalent in Bangladesh include various folk, classical, and popular songs that manifest the cultural heritage and spiritually alleviating.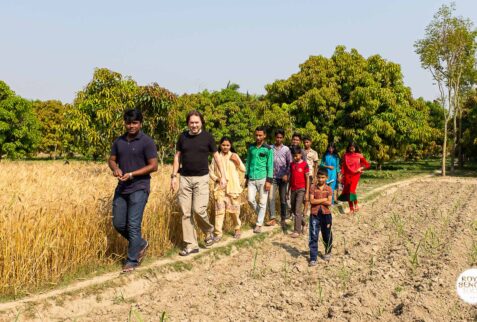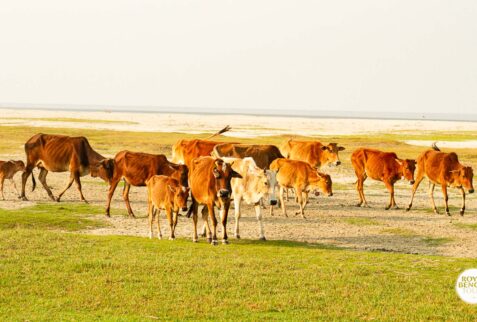 Ninety per cent of the total population are Muslim (Sunni the most), followed by Hindus (largest-minority) at (8.5%), Buddhists (0.6%) and Christians (0.4%) and others (0.1%) (as per 2011 census). The relations between all different believers have always been peaceful with respect to each other. Homestay families are from all religions.
Traditional Homes
The style of houses that visitors will live in during the homestay program is most likely a traditional Bangali house, which can be made of Bamboo, wood, tin, mud or concrete building. Some houses are with a display intricate carvings or crafts. The windows open out towards the lush greenery surroundings for a nice sense of calm, as well as supplies plenty of fresh air.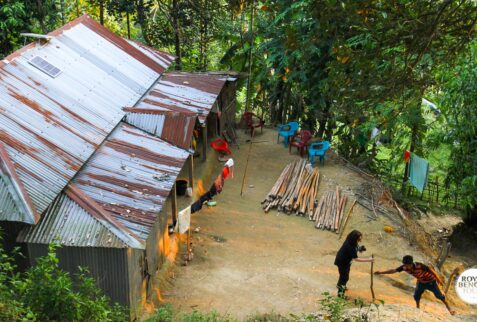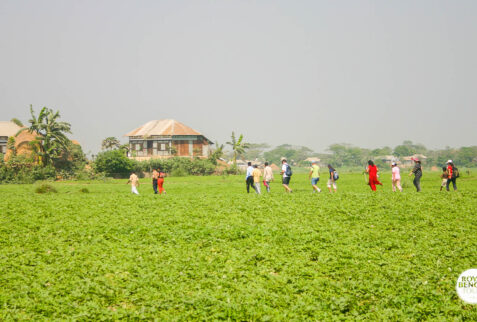 Arts and Crafts
Bangladesh has a wealth of crafts and traditional arts. The are many skilled artisans in the villagers, and they dedicate a great deal of time and effort towards creating lovely pieces. Handicrafts can be made of wood, fabric, Bamboo, brass and many more. Visitor can watch how intricate crafts are made. Among various techniques, visitors are always encouraged to try their hand at creating their own souvenirs.
Batik
Bangladesh has a name for its batik industry. Batik is traditionally worn as salwar-Kamiz and kids clothing by the people living all over Bangladesh. Visitors have the chance to visit the Batik villages and see how the hand-painted and block motifs are made, and coloured using dye and wax.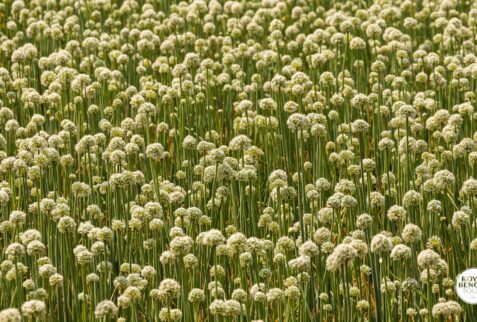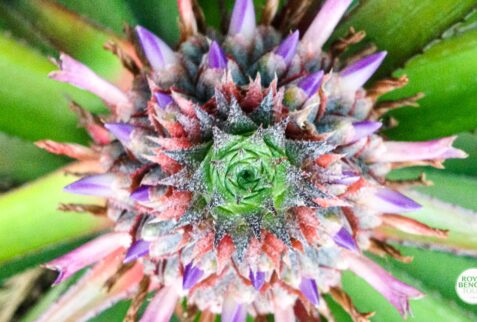 Pottery
Earthenware potteries were most commonly used and found all over Bangladesh some decades ago. Still, this industry is surviving around the rural and semiurban areas of Bangladesh. Some of the homestay villages have small pottery industry within or nearby, and visitors can easily walk around.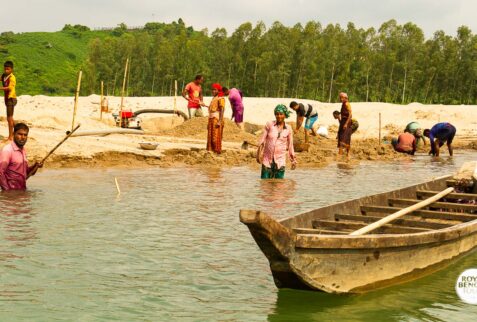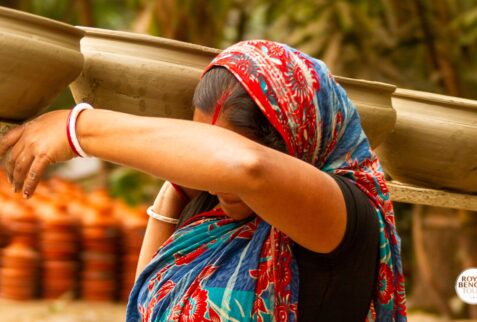 Agro Visits
Enjoy the natural charm and simple joys of rural living. This is a world away from the hectic city life. Bangladeshi villages offer a chance to go back to basics and experience the interesting activities that are rarely seen in urban areas.
Agriculture is an important part of the rural living of the country. Agriculture is the mainstay of the economy, and more than 80 per cent of Bangladeshi are actively involved in this sector. The agricultural industry is sustained by crops like various types of seasonal rice, potatoes, tomatoes, wheat, corn, bean, tea and many different types of seasonal vegetables. Bangladesh has a great variety of tropical fruits.
Authentic Local Delights
The dishes of the villagers are often made with garden vegetables and fresh local produce. Experience a variety of authentic Bangladeshi tastes and flavours. Try your hand at making some of the local recipes to surprise family and friends back home with your newly acquired culinary skills.
Meals with the host family will be interesting and pleasant. Our tradition and still practice are that the guest must be highly taken care of. While you are having your meal, the rest of the family members may just be in your surroundings to make sure that you have been served up to your full content. Guest is sent by God and brings good luck to the family. Don't be surprised to have a big fish head on your plate. The best part of the fish (food) is for the most important person in the family. The family will try to feed you as much as they can without understanding your hunger level or the amount you can consume! Please be careful on this part. You must stick to bottled water for drinking, even for brushing your teeth, during your trip anywhere in Bangladesh.
Homestay is a learning opportunity for Students
Students are welcome to participate in a homestay programme. Students from different countries and backgrounds can interact and have an enjoyable time while they learn about Bangladeshi culture.
Foreign students who come to Bangladesh for a homestay programme will find a range of interesting activities. Interact with local students or participate in social functions to better understand the local culture and lifestyle.
Foreign students can reciprocate with a cultural performance featuring their own countries' costumes and music. By working together, homestay participants and host families can foster a good relationship that transcends geographical borders and cultures.
Safety and security in the village during your homestay
While a foreigner is staying in a village in Bangladesh, you can consider the whole village your security guard. Yes, as a foreign guest, you will be that important to them, which you will feel during your stay. Besides, we have excellent contact with the local authorities to seek help in any emergency, which was never necessary.