World's largest metal recycling industry
The Chittagong shipbreaking yards
The Chittagong shipbreaking yards or recycling industry in Bangladesh decomposes end-of-life ships into metal and other engineered products for the local market, recycling every part of the hull and machinery. In the 1960s, shipbreaking activity began in Chittagong when a ship was abandoned on the beach after a heavy cyclone. The ship was stuck on the sandy beach, and it would have been too expensive to pull it out. It stayed there for years until locals found it and scavenged it. During the liberation war in 1971, locals also scavenged a few stranded ships here. An organized ship recycling industry finally started in the 1980s. By 2008, most of the 704 commercial ships scrapped worldwide were in Bangladesh and India. In 2009, out of 1014 ships, about 200 (21%) were dismantled in Chittagong. As of 2010, there were about 119 ship-breaking yards in Chittagong. This is an increase from 2008, when only 57 yards were working because the Bangladesh Supreme Court temporarily banned ship-breaking because there were too many fires and explosions in the yards.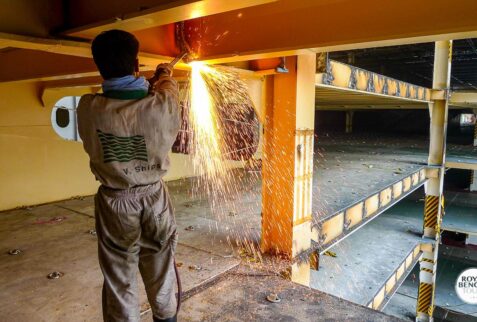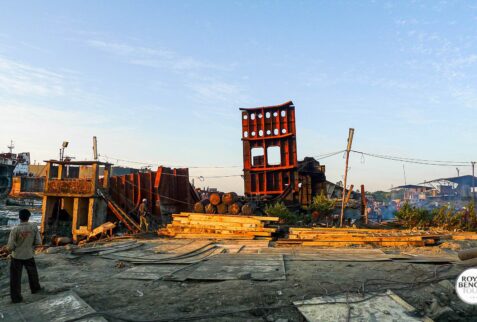 How do they cut the ships by hand?
The ships are first dismantled into larger sections, and then those larger sections are dragged by the winch during high tide to the end of the muddy areas beyond the water line. Cuttermen use blowtorches to cut these large sections into smaller ones, which are then carried by the magnetic grabs to the trucks. Workers carry small, lightweight pieces from ships to dry areas to sell. A massive scale weighs both unloaded and loaded trucks to measure the number of metals sold. All of this equipment greatly reduces the amount and weight of metal that workers must carry from the ships to the yards. The Chittagong shipbreaking industry employs more than 50,000 people directly, and more than 100,000 people are indirectly employed.
Where can I find the shipbreaking yards?
Most of the shipbreaking yards in Chittagong are in the Sitakunda Thana area, which is about 20 kilometers along the coast. About 100 yards operate along Sitakunda's coastal areas, primarily in Kumira, Bhatiary, and Fouzdarhat, with each yard measuring 200–300 m2. The yards occupy only about 4,000 m2 of land, representing intense economic activity per square meter of land. In Sitakunda, the roads are lined with hundreds of small shops selling second-hand goods from the yards. These shops range in size from 30 to 50 square meters. Each shop sells specific products bought from the yards. This is the first stage of sorting the reclaimed materials after they are stripped from the ships.
Criticism directed at the shipbreaking industry!
People often criticize the industry in Bangladesh and elsewhere for polluting the environment and not taking care of worker safety well enough. Shipyards are established through mangrove deforestation, and tests of the coastal waters around shipyards have found elevated levels of oil, heavy metals, PCBs, asbestos, and other toxic pollutants. In the past, workers were exposed to a variety of immediate threats, from toxic air inside the ships to injuries from falling debris, as well as chronic effects from exposure to toxins and asbestos. However, the shipbreaking industry provides benefits to the Old Dhaka and Bhatiary communities and the country through jobs and metal resources. International agreements like the 2009 Hong Kong International Convention for the Environmentally Sound and Safe Ship Recycle aim to protect the environment and workers in places like Bangladesh's shipbreaking industry.
What other industries are the shipbreaking yards linked with?
The Postogola neighborhood is about 5 km2 and is situated on the bank of the Burigonga River, which surrounds the capital city of Dhaka. Hundreds of enterprises conduct their business there. Business owners are residents of this region and are noted for their own cultural differences with respect to the rest of Dhaka. The Dholaikhal neighborhood is about four to five kilometers from Postogola and roughly the same size. Historically, this part of Dhaka has always been a business center dominated by traditional industries, such as metal recycling. The specific accent of the Bengali language, low education
rate, unique food items, and marriage ceremonies distinguish the inhabitants of old Dhaka from those cultures in "new" Dhaka. While the Old Dhaka people maintain their linguistic accent and marriage ceremonies as traditions, they do not seem to pursue them in order to maintain the difference. However, they pride themselves on their attachment to these traditional rituals and professions. They believe the Old Dhaka accent is the original Bangla dialect, and the people in the other part of Dhaka speak in a new style, which is not original. They say, "We speak what we have got." Their cultural changes mainly revolve around changes in their professional involvement, as their day-to-day information is sourced through their professional networks.
How do the scrap metal shops in Chittagong and Dhaka work together?
Bhatiary scrap shops are scattered on either side of the Dhaka-Chittagong Highway, only two kilometers away from the yards. The Bhatiary markets concentrate on engines and parts, kitchen equipment, furniture, and salvage from ships, involving traders buying and selling scraps all over the country. Nonferrous scraps such as kitchen equipment, furniture, lifeboats, boards, and domestic equipment are directly sold to end users through small and medium enterprises with minimal or no processing in Bhatiary. Ferrous equipment such as metal sheets, engines, gears, cables, compressors, and crankshafts are processed through multiple agents at all three sites.
But in Postogola, only metal sheets are dealt with, while businesspeople in Dholaikhal deal with a wide range of scrap. There are about three hundred businessmen in Postogola who buy and sell metal sheets but do not involve themselves in processing the sheets directly. After the metal sheets are sold, the buyer of the sheets will get their sheets cut down to specification by cutters in Postogola, who have small shops where they wait to get cutting contracts from buyers. There are three rolling mills in Postogola, and the owners of those mills buy metal sheets from Postogola businessmen or directly from Chittagong yards. Dholaikhal businessmen also buy scrap from Postogola and use their light engineering skills to make a variety of final products, such as household utensils, automobile parts, engine repairs, and other machinery and tools, in addition to buying and selling the ships.
How are the scrap resources collected and spread across the country?
The way the scraps spread across the country begins in the Bhatiary region, where most of the shipbreaking materials are traded. Bhatiary traders purchase all resources from yards and stock them on either side of the road. Business owners often buy scraps from traders because each trader specializes in a specific type of scrap and can sort it well for them. Furthermore, the yard owners only sell scraps in large, wholesale quantities; businessmen are more interested in smaller quantities and can therefore buy them by the piece from the traders. These resources include all kinds of scraps from the yards (e.g., pipe, gears, engines, furniture, paint, ceramics, asbestos, glass wool, cables, big tanks, railings, and toilet accessories), except the plain sheets that are bought directly from the yards in the most quantity by Postogola businessmen. Dangerous products such as asbestos are viewed as resources, as people use those materials in their home roofing.
Asbestos is still a socially acceptable material in Bangladesh because not enough people know how dangerous it is. Low living standards make these materials necessary when less-dangerous materials are too expensive. Nearly every business owner in Postogola and Dholaikhal gets all of their raw materials from the shipbreaking yards in Chittagong. Plain sheets go to Postogola; half of those are obtained directly from the yards and the rest through the Bhatiary traders. The other resources are traded from the Bhatiary region directly to Dholaikhal in Old Dhaka City, or to the rest of the country, or abroad. Some metal resources are also sent to the rerolling mills in other areas of Chittagong and Dhaka to make rebar for construction.
One of the three traders at Bhatiary sells nationwide, but largely in Postogola and Dholaikhal. He also owns rerolling mills in Chittagong and Dhaka. Every day, between 600 and 1000 tons of metal sheets come into Postogola. A trader brings nearly a quarter of the scraps. About half of the total scraps are sent to rerolling mills. The remaining material is distributed across the country, first to Bhatiary and then to both Postogola and Dholaikhal. The difference in activities in Postogola versus Dholaikhal is influenced by the light engineering skills that are used to make final products. While metal sheets are cut as per the customer's specifications in Postogola, Dholaikhal businessmen have higher metal processing skills that are passed down through generations.
Postogola and Bhatiary businessmen profit mainly from buying and selling. However, there are a few shops that process scraps. For example, plain sheets are not processed in either the Bhatiary or Postogola regions except for cutting them into smaller pieces; these smaller pieces are sold to enterprises in Dholaikhal to be made into final products. Some sheets go to the shipbuilding dockyard to make or repair launches, steamers, or boats.
Resources processing in Postogola
The primary scraps are metal sheets that are repaired by certain business firms that have repairing machines that function mainly to flatten the deformed sheets. Rerolling mills in the area buy low-grade scraps from firms to melt and mold them for construction purposes. Cutting firms cut the sheets into the required size. While they are sold, cutter men are called on to make the items in the buyer's desired sizes and shapes. Workers' pools hire out their labor to buyers to load scraps onto their transports. Thus, the Postogola region forms a network of various firms centered on the input of metal sheets from Bhatiary.
The firms in Dholaikhal make final products by applying light engineering techniques and using different lathe machines for products such as bolts, nuts, spades, scissors, and many other tools. The products made from plain sheets are more durable than those made from raw iron, as these international ships are made up of high-quality iron sheets. The resources that are reused for these final products represent up to 50 percent of the total metal resources of a ship. Only the low-quality and rusty iron scraps are left to be sold to the rerolling mills to produce rebar; these resources represent the other 50 percent of the total metal resources. The idea of technical nutrient management is used to explain how the materials are separated based on the quality of the metals.
Comparison of spatial and temporal effects of resources
The original professions of the people in Bhatiary were agriculture, fishing, and forestry; the scrap recycling industry started about three decades ago, when some left these professions to engage in metal scavenging. According to an elderly resident of the region, no one in Bhatiary was involved in shipbreaking activities before 1978; all were fishermen who harvested in the coastal fisheries. He said that he, along with KSRM and AK Steel, started to buy ships that were beached over there. He was pointing to a place about one mile away. All of the traders you see here are from the families of KSRM and AK Steel. One trader remarked that trading metal scrap is a huge opportunity for them and an easy process to deal with. They are lucky to have this business development here. I buy them from here and stock them in Bhatiary. Steel, copper, and other metals are even exported abroad. There is evidence that this movement in professions was sparked when local fish stocks declined. A local fisherman observed that catches are declining, in contrast to the 1970s and 1980s, when we caught a variety of fish. Lots of fishermen have left the fishing profession forever. The decline in fish catches is often attributed to ship-breaking activities in the regions by local non-governmental organizations.
At the macro level, the failure of the state-run primary steel production to meet high demand, the weakness of the Bangladeshi currency, and the lack of environmental regulations have also been identified as driving factors for the industry. At the micro level, the entrepreneurial culture of the Bhatiary business cluster is an equally essential factor in addition to the supply of metal scraps in the area. Gregson mentions that the youth in the region dream of becoming a big shipbreaker one day and that their business acumen and growth are based on making new products from low-grade ship metals.
As for Postogola, the involvement of the locals in metal scrap recycling predated the official shipbreaking industry, starting with a river port on the Buriganga River about four decades ago. According to one elderly local, in the 1970s, two or three people scavenged the iron pieces around the area and sold them at the nearby market. Eventually, the port activities stopped as the rivers were narrowed by the waste and land grabs of the politically connected industrialists. Launches, steamers, and boats started to be dismantled by people involved in scavenging on a small scale. Later, these early scavengers became the masters of the metal recycling business in Bangladesh and started to import scraps from Chittagong as their business grew.
Interestingly, these scavenging activities were done by the siblings of a family who later became millionaires. Since then, their immediate family members have adopted and expanded businesses. The evolution of this business provided positive feedback, increasing the flow of scraps toward Old Dhaka.
The spatial dimension of the growth of the industry is important too. When the river activity started declining and fewer launches, steamers, and boats were there to dismantle, the metal workers desperately started to look elsewhere for the metal resources that suited their skill and expertise. The businesspeople in Postogola and the dealers in Bhatiary were linked by their desire for metals and the growing supply in Chittagong yards. One elderly local businessman mentioned, "I know how the recycling zone expanded here." The owner of a rerolling mill here, who was a scavenger, first went to visit one of his friends who lived near the ship recycling areas and informed him about the possible sources of scrap. Afterwards, that friend became a middleman to buy scraps and truck them to Postogola. Then he brought two of his brothers into the business, realizing that he would need them as it grew. That's the start. The resources moved from the ship recycling yards in Chittagong to Old Dhaka because of two important things: the growth of family businesses and the use of relatives as middlemen.
Cognitive embeddedness
The core business dealings are limited to the family ties of the businessmen. One businessman remarked: "I do not go to anyone for borrowing money except my family members." However, some also have close ties with a few non-relatives, as another person said: "I am working here as a manager; sometimes, my boss asks me to borrow some money." I go to those with whom I am on good terms, and I do not go to those whom I do not know. I am not tied to any family ties since I am from other places and have worked here for four years. Usually, they also come to me to borrow money. Even if he has money, it is unusual for someone to refuse. As we have been practicing this for a long time, it has become a habit.
The "businessmen here do not envy others." If someone has good transactions today, I will have more tomorrow; we think like this. If someone cannot sell his product, he will call some other businessman to help him sell it. The dynamics surrounding trust for borrowing and lending money and resources illustrate the reliance on short mental distances for business transactions.
Even an individual's desire to handle metal scraps is rooted in how the actor conceptualizes the resource; pride and craftsmanship were commonly mentioned themes. Getting dirty in this business is a daily matter. They live through dust and cranky sounds, but that's fine. This gives them money, food, and a way of life too. They never feel dirty, and they have been doing this for a long time, as a businessman explains.
Businessmen expect their sons to take over if they do not continue on in higher education. And indeed, many older businessmen did not see value in higher education. Regarding the educational status of his elder son, an elderly businessman said, "What is the need for this kind of study?" He won't get a good job. "I want him to look after my business and learn as early as possible." Although he was expressing his frustration over the standard of his son's education, he hinted that he would be happy to see his son in this business for his future financial security. Some respondents do not value higher education for their children, as they typically do not get jobs related to their education level, or those jobs earn less income than the metal recycling industry. In addition, the jobs were seen to be more restrictive and offer less freedom than metal recycling businesses. In this social setting, it is a business activity that makes individuals equal in status. People in similar professions are far more likely to interact than people of different professions; for example, metal businessmen tend to interact less with teachers, even though sometimes they undermine teaching jobs and boost their business.
Structural embeddedness
There are two types of social networks in Postogola: one among the businessmen in the metalworking areas, and the other involving interaction between the Postogola businessmen and the traders in Bhatiary. The network connections between the Bhatiary traders and the Postogola businessmen ensure a constant flow of resources to Postogola. Here, we talk about what the people of Postogola and Bhatiary think about how their relationships work.
Trusted business tie
How does one businessman trust another in terms of the price he gets from selling particular goods? They never cheat each other because they need each other's support to sustain this business. So, it's equal; none loses. This sense of reciprocity and repetition of similar dealings provided a shared expectation among the businessmen in the Postogola area. When asked, how did these good relations develop here? The same businessman said, "Here, everyone sees everyone." We spend nearly 10 hours a day together. When dawn breaks, we see people here, the same people, having the same discussion. This reflects an observation regarding a common unwillingness to profit within a community. The use and availability of non-economic resources, such as selling other people's goods, going to buy other people's goods for customers, and borrowing money from other people to buy goods This attitude embodies their shared meanings and business logic, which govern their actions.
Breaking ships to build a nation
The shipbreaking industry has received worldwide attention because it's bad for the environment and dangerous for workers. National and international NGOs enforce a discourse focused on local negative impacts while failing to acknowledge improvements, which shifts attention away from the inadequate enforcement of international treaties. This skewed discourse continues to obscure the identification of viable solutions to existing environmental and social problems and hence drives ineffective policy implementation (S.M. Mizanur Rahman & Audrey L. Mayer).
The conditions are harsh, no doubt, on the shores of the Bay of Bengal, where thousands of barefoot Bangladeshi citizens dismantle ships that are at the end of their seafaring lives. These ships arrive at the Bay of Bengal and are scrapped right on the coast to be repurposed as scrap metal. The metal is used to build and improve things, and it is also sold on international markets for cash. The storyline seems clear: billion-dollar shipbreaking firms find ports in an economically marginalized country with little to no environmental regulations to deal with vessels' waste, which brings them tremendous amounts of pollutants. During this development, most of the mangrove forests along the delta have been cut down. These forests were important places for the fisheries that have supported Bangladeshi families for generations. Thus, a cycle of reliance on international markets and perpetual environmental degradation continues (S.M. Mizanur Rahman & Audrey L. Mayer).
Environmental issues of shipbreaking yards
The current dominant discourse by NGOs points to two major environmental impacts along coasts due to shipbreaking activities: polluted effluents and deforestation of coastal mangroves. The dominant view is that this industry pollutes the environment.
No regulatory framework provides adequate oversight of these businesses, despite the growing attention generated by newspaper articles about this industry, the skills associated with it, and the support needed to expand the industry. Officials from the government sometimes go to these places to ensure taxes and utility bills are paid.
Citation:
Mizanur Rahman, S.M., "SHIPBREAKING IN BANGLADESH: PERSPECTIVES FROM INDUSTRIAL ECOLOGY,
POLITICAL ECOLOGY AND ENVIRONMENTAL POLICY", Open Access Dissertation, Michigan
Technological University, 2016.
https://doi.org/10.37099/mtu.dc.etdr/103