Former important trading and political centre
Only ruined historic city existing in Bangladesh
The Panam City, or ancient Painam Nagar, is a deserted city located 40 kilometres east of Dhaka in Sonargaon. This city is a very significant cultural heritage site in Bengal, as it was part of the old capital and the only remaining intact city of ancient Bengal. But there are no proper documents or historical records that explain what each building was used for. Most of the buildings are fragile and in a vulnerable condition now. Bangladesh's climate has made the buildings suffer from heavy rainfall, flood as the buildings are mostly made of bricks and wood.
Panam Nagar was born by Hindu cloth traders who built their homes using a mix of Indo-European styles that showed the social and economic status and way of life of merchants and the elite class during the British colonial era. Originally, Panam Street had 90 buildings, a mixture of single- and three-story buildings. The site contains 49 buildings on both sides of a road established in the late 19th century by local rich Hindu traders (Sahas and Poddars). Panam City is now a protected Heritage site under the department of archaeology of Bangladesh.
This ancient city was visited and described by various historic travellers, including Ma Huan, Ibn Battuta, Ralph Fitch and Niccolò de' Conti, as a thriving centre of trade and commerce.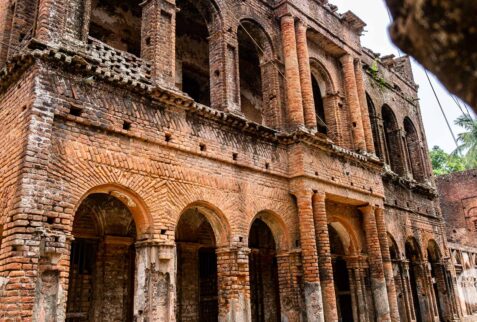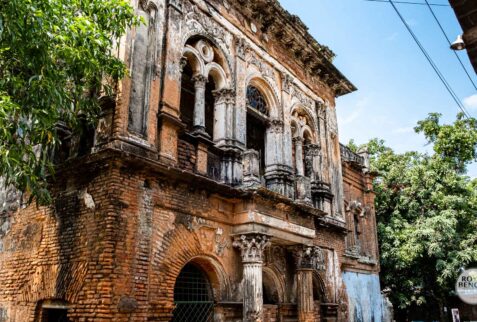 The picturesque stucco-decorated array of ruined houses of Panam Nagar has nothing to do with a very few surviving pre-Mughal and Mughal monuments scattered around this area. Yet, the superb architectures of Panam are regularly visited by many tourists on the wrongly assumpted that, are the ruins of the ancient capital city of Sonargaon.
About a kilometre long tiny Panam township is confined within a moat and is approached through an old camel-back culvert. About 49 charming one to three-storeyed buildings are overlooked on either side of the east-west street. This eerie city is standing amidst of Bangladesh's low-lying green crops terrain and are many hidden multi-storeyed dwellings and tall-spired temples beyond the enclosed area.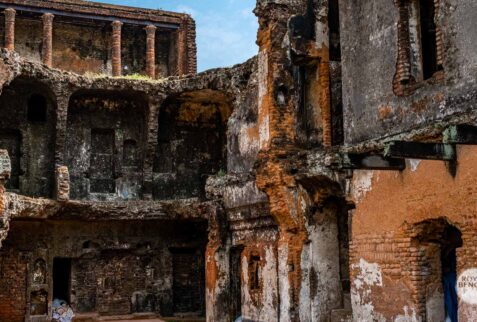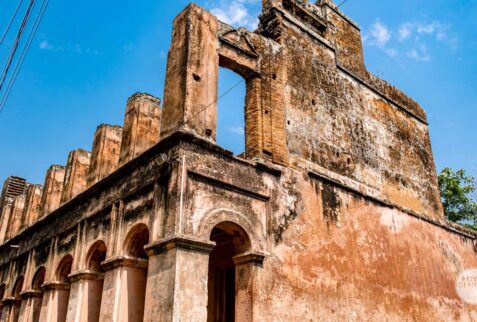 The Panam Nagar started to come into an abundance through large-scale political and religious violence, and riots have periodically arisen between 1947 to 1971. The actual Hindu owners fled to India or elsewhere in several phases, leaving their properties behind. The first phase happened during the Bengal partition by the British in 1947, the second and significant one in 1965 during India and Pakistan war. Finally, the last few remaining communities have left during the Bangladesh liberation war in 1971. Since then, the silent city's monuments suffered from illegal occupation several times by local poor Hindu, Muslim families and so on. The Department of Archaeology took final control of the whole area and locked down all building in 2015.
Panam City has been included in the World Monuments Watch List of 100 Most Endangered Sites by a New York-based World Monument Fund in 2006.