essence of the late medieval temple style
Kantajee Temple - magnificent religious edifices
Kantaji Hindu Temple is the most beautifule Hindu temple in Bangladesh. Kantaji Temple also known as the Kantajew, located in Dinajpur District, is a beautiful religious building from the 1800s in Bangladesh. The Kantajee Temple is very good example of anchient brick tearracotta architecture.
Both the size and position of the Kantajew Temple is a great terracotta art displayed on all of its exteriors, making it a historical masterpiece which cannot be ignored. One must admit that the Kantaji Hindu Temple is surely one of the most exceptional examples of terracotta art as it endured in Bengal during those days. The unique characteristics and stories, as told by thousands of brilliantly executed terracotta figures, provide a rich and vivid account of the living conditions of the rich princes ruling the land in those days and the lives of the general people.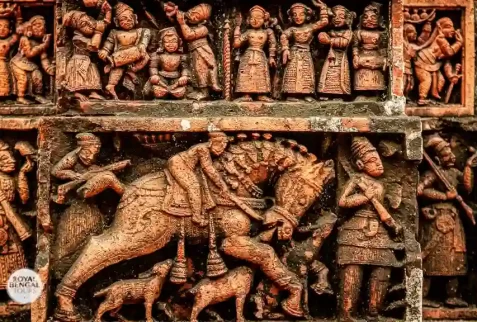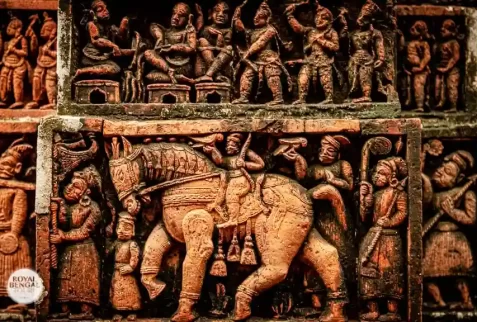 Bangladesh has a long history and marvellous past. Diverse archaeological sites like Mahasthangarh, Paharpur, Vashu Vihara, Dhap Vihara, Jogoddol Moha Vihara, Bhoja Vihara, Charpatra Mura, Salban Vihara, Rupban Mura, Gokul Medh, etc. of Hindu-Buddhist periods and Kushumba Mosque, Bagha Mosque, Atia Mosque, Shait Gumbad Mosque, Chhota Sona Mosque and many other mosques of the Muslim period are her national treasure. The substance, accomplishment, decoration, ornamentation, arrangement and idea of these monuments are different, and each may claim uniqueness. These records connect the socio-economic and religious history of the country. The landscape of the country is different than any other ecological corners of the world. Many different ideas, beliefs, philosophy, dogmas and so on entered this country through the ages. The people of the land submerged those ideas and philosophy directly and expressed those themes in a blended way. Therefore, architecture of this country emerged in a composite form like "Indo-Aryan" and "Indo-Islamic" styles of architecture.
Bangladesh is a riverine country and has very fine and fertile soil. Its clay can be easily formed into bricks. Therefore, most of the temples during the late medieval period were brick-built and furnished with terracotta plates. After the Hindu-Buddhist rules, Muslims ruled the country. There is no indication on temple construction in the early stage of Muslim rule. However, later at the end of the liberal period of Mughal rule, between 1600 AD to 1895 AD a total of 130 temples and other religious structures were built in different areas of Bangladesh. Kantajee temple is one of them, is located at Sundarpur Union, 21 kilometres north of Dinajpur town, along the Dinajpur-Tetulia Highway. On the eastern bank of Dhepa river. Originally the temple was built on the western bank, due to flash-floods and an earthquake the river has changed its course and shifted to the east in 1787. Dhepa was an active and deep river which has dried up now. Local Jamindar (Landlord) Raja Prannath started the construction of this temple in and dedicated to Krishna and his wife, Rukmini. Raja Prannath died in 1722, and the work remained incomplete during his lifetime. Later, his adopted son Ramnath completed the remaining tasks in 1752.
"Sake vedabdhi kala kshiti pariganite bhumipa Pran-nath Prasadanchatiromya surochito nava-ratnakhya masminya karyata Rukmini Kanta tushtoya samuchito manasa Ramnathen ragma Datta kantaya Kantasya tu nija nagar tato sankalop siddhya". 
There is not enough information to establish the construction date of the temple. Fortunately, a four-line Sanskrit inscription has found on the plinth of the northeastern corner of the temple, which provides the final construction date and other relevant information. This inscription was written in Bengali script, and the language is Sanskrit. The inscription expressed that the King Prannath began the construction of the well-planned graceful nava-ratna temple of Rukmini Kanta. In the Saka year of 1674 (Sake vedabdhi kala kshiti it means: veda=4; abdhi=7; Kala (season of the year) = 6; and Kshiti (or Earth) = 1, to get the date 1674 Saka era one has to reverse these figures) to accomplish the wish of the king (Prannath) the temple was completed by his adopted son Ramnath (manasa Ramnathen) in Kantanagar.
Raja Prannath brought the image of Kanta (respected name of Lord Krishna) from Brindaban and laid the foundation at Kantanagar 18 kilometres north of his palace. No evidence found why did he build this temple that far away from the town but a local legend says; he was guided by a dream. A logical explanation suggests that the Kantanagar area was fertile and suitable for controlling the river route that goes via the Dhepa river. To satisfy the Hindu inhabitants in that area and to obtain better revenue, trade and prestige, Raja Prannath might have founded this monument as a part of his liberal policy, which was also followed by his successor Ramnath.  
This outstanding temple is of Indo-Islamic pinnacle type (or nava ratna) temple through the towers or ratnas are ruined now. The plan, decoration and accomplishment of the temple are the spirit of belonging of the late medieval era. The temple from bottom to top has been ornamented with terracotta panels, arranged both vertically and horizontally. In the horizontal friezes; the social life of the late medieval aristocrats and the life stories of two mythical heroes Rama and Krishna, have been portrayed. Terracotta plaques expose that the artisans were guided by local poems, songs and dramas when depicting mythological figures and stories. In the vertical panels, ten incarnations of Vishnu such as Matsya, Kurma, Varaha, Narsimha, Vamana or Trivikrama, Parsurama, Rama, Balarama, Krishna and Kalki images have been depicted beside several figures of Rishi.
This magnificent religious edifices of late medieval architectural is a living one, where people worship and perform rituals every day, as well as attracts visitors from all over Bangladesh and afar.
Kantaji Hindu Temple and Museum Visiting Hours
Kantaji temple is more or less always open during the day for visitors and pilgrims. No ticket is required to visit the temple alone. The museum follows the below visiting hours, and a ticket is required for a visit.
Days

Summer: 1 Apr to 30 Sep
Winter: 1 Oct to 31 Mar

During Ramadan

Friday

10:00 AM to 12:30 PM, and 2:00 PM to 6:00 PM
9:00 AM to 12 PM, and 2 PM to 5 PM

14.00 PM – 16.00 PM

Saturday

10:00 AM to 6:00 PM
9:00 AM to 5:00 PM

10:00 AM to 4:00 PM

Sunday

The museum remains closed on Sunday and any other public holidays.

Monday

2:00 PM to 6:00 PM
1:30 PM to 5:00 PM

10:00 AM to 4:00 PM

Tuesday

10:00 AM to 6:00 PM
9:00 AM to 5:00 PM
10:00 AM to 4:00 PM

Wednesday

10:00 AM to 6:00 PM

9:00 AM to 5:00 PM

10:00 AM to 4:00 PM

Thursday
10:00 AM to 6:00 PM
9:00 AM to 5:00 PM

10:00 AM to 4:00 PM
Kantaji Temple and Museum Ticket Price
Nationality
Ticket Price
No ticket is required to visit the temple alone, but for the site museum.
Students (Bangladeshi) up to the secondary level
5.00 taka
Bangladeshi
20.00 Taka
Visitors from SAARC member countries
100.00 Taka
And any other foreign nationalities
200.00 Taka
The South Asian Association for Regional Cooperation (SAARC) has eight member countries (Afghanistan, Bangladesh, Bhutan, India, the Maldives, Nepal, Pakistan, and Sri Lanka).